A Beginner's Survival Guide
The nature of our work as freelancers can mean we spend very little time with colleagues in person. Industry conferences are a great opportunity to network and learn from our peers, and you'll probably go home energized and enthused by the possibilities for your business. But what if you've never attended one before? How are you supposed to know what to expect from your first conference?
If you're hesitating about dipping your toe into the conference waters, here are my tips for how to get the most from attending your first conference.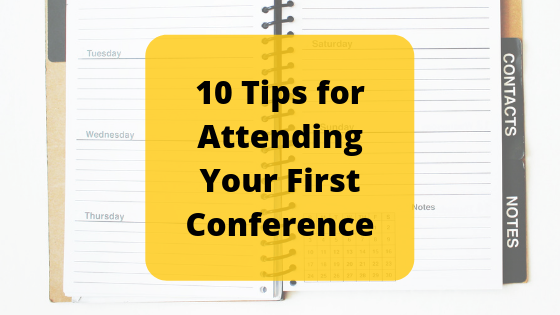 [Disclaimer: This post contains referral links, meaning I will earn a small reward from qualifying purchases at no extra cost to you]
---
1) Choose a conference that has an element of familiarity
---
If you're attending a conference for the first time in a city you've never visited or where you don't speak the language, you'll be putting additional pressure on yourself. If possible, choose a location you've visited before or where you know you'll be able to communicate with those around you. It's well worth making life easier for yourself!
---
2) Participate in as much as you can
---
The majority of us spend most of our time working alone. The conference will be tiring and you'll probably be tempted to skip some sessions, stay in bed that little bit longer, or catch up on some work at your hotel. Don't listen to your brain when it tells you to do this. After all, we can do those things whenever we like, but it isn't every day we have the chance to meet and learn from colleagues. Even if you aren't sure about some of the sessions from the title and description, you're bound to learn something from them all.
---
3) Put yourself out there and meet people
---
Say yes to opportunities to socialize. Other freelancers aren't so scary when you actually start talking to them. If you're nervous about this, try opting for small social events with few attendees. The size of the group will mean that everyone is involved in conversation, and someone you meet there might be able to introduce you to others later. Don't be afraid to go up to the speakers after their presentations, too. They'll be happy to answer any questions you have and it's another way of making contact with someone more experienced.

One freelance translator's experience at her first conference
I think the thing I benefited from most is the re-energizing effect and the passion it's instilled anew. This was only achieved by meeting so many wonderful colleagues, exchanging ideas, learning about new practices and being reminded of everything I love about my job. It's a fantastic opportunity to learn from much more experienced people and to figure out how you want to take your career to the next stage, regardless of your current achievements or position.
I decided to go to the ITI Conference because it was putting a marker in the sand. I was coming up to my two-year anniversary of translating professionally and I wanted to ensure that I was investing in my career and developing the professional skills needed for the job. In a field where anyone can call themselves a translator, I wanted to take the appropriate steps to show that I am a professional. I've also realized that I learn best in a real-life, face-to-face setting so the jam-packed two days were more efficient for me than self-paced learning.
For anyone hesitating about whether to attend a conference, I would encourage you to take the plunge! Meeting other people in the profession and acquiring knowledge can only advance your career and make you feel part of the wider professional network. My one top tip would be to pace yourself in coffee/lunch breaks – I found one meaningful conversation with someone is far more useful than lots of quick introductions!
Rebecca works as a French and Spanish to English translator, focusing on tourism, retail and marketing texts. You can find her at rebeccaeldertranslation.com or as @translatorbex on Twitter.
---
4) Reach out before the conference
---
If you're familiar with any of the speakers – you receive their newsletter, have seen their posts on social media, or have attended webinars they've presented, for example – send them an email before the conference starts to tell them that. This gives you a connection and a reason to then approach them at the conference. The same can also apply to other attendees if the conference website publishes a list of the other people who've registered.

---
5) Prepare for a tiring experience
---
Conference organizers have a short window to pack in as much as they can. Expect days to be long and full of activities! On top of that, you'll be taking in a lot of new information, potentially speaking a different language, and travelling to get there and back again. Try to arrive well rested and allow a day when you get home to catch up on sleep.

---
6) Find accommodation near the conference venue
---
Most attendees will stay in or near the conference hotel. Price may be a consideration for you, but remember that you'll have some early starts and long days. Staying somewhere that involves taking public transport may be something you'll regret, particularly if you don't know the city.

I like to use Booking.com to find places to stay when I travel, for a couple of reasons: 1) It has a map view, so you can make sure you're booking somewhere close to the conference venue; 2) Its loyalty program rewards you with discounts, free breakfast, and room upgrades the more you book! Use this link to book and get 10% back on your first stay.
---
7) Make sure you have some business cards
---
Lots of people will give you their business cards. You'll want to have something to give them in return – it will make you look more professional. If they can't contact you later, they won't be able to send work your way or refer clients to you.
I got my business cards from Moo and I was so impressed with the service I received. They arrived faster than expected and the quality was incredible. I now use Moo for everything I want printed with my logo, including Christmas cards and thank you cards for my clients. Get 25% off your first order when you use this link.
---
8) Take notes on who you meet
---
You'll meet a lot of people over the course of the conference. By the end, you may find it difficult to remember who does what and to put names to faces. If you receive business cards from people, write a note on them to remind yourself of what they do.
Another strategy is to keep a list of people you meet with a few details about them. Update it at the end of each day. Wait longer and you might forget…
---
9) Allow an extra day to explore the city
---
If you arrange your travel so you only have time for the conference activities, you may find you never see anything of the host city. Many of us don't find it easy to take time off very often. As you won't be able to take on any paid work for a few days, why not make the most of it? You're there already, after all.

---
10) Don't be put off if you feel inexperienced
---
You might be overwhelmed by how much you still don't know and still have to learn. Just remember that others are very supportive of anyone who wants to put in the work to improve. And by the time you come away, you'll have already built up your experience, ready for the next conference.
Is there anything you're wondering about attending your first conference? Ask me in the comments!
Registered for a conference?
Download your free conference preparation toolkit, including prompts to get you thinking about what to do while you're there and planner sheets to complete and take with you to the event.
Get it here.